Anti-Press Holocaust in Tunisia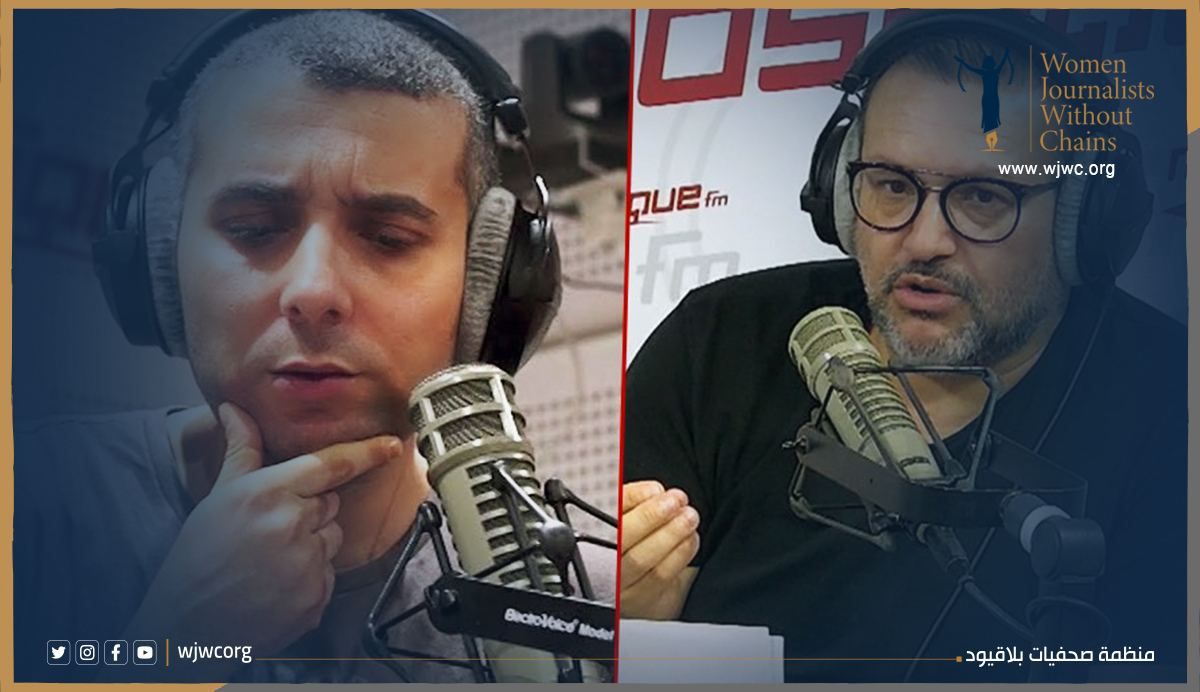 It seems that the Tunisian government is employing authoritarian tactics reminiscent of the Zine El Abidine Ben Ali regime to suppress journalists and media personnel. Many of them are presently being prosecuted in Tunisian courts for their professional activities. Such actions represent a stark deviation from the ideals of liberty.
On Monday, May 22, 2023, Tunisian authorities interrogated Elias Al-Gharbi and Haitham Makki, who work as journalists at Mosaique FM, a well-known private radio station in Tunisia. The reason for their interrogation was their criticism of what they considered to be unfairness in the recruitment of security personnel.
After being interrogated, Elias Al-Gharbi  and Haitham Makki were released on bail, but their case was forwarded to the Public Prosecution Office, and they are expected to face trial on charges of insulting the police and security forces. On May 15th, during their appearance on the "Medi Show," the journalists talked about the recent attack near a synagogue on the island of Djerba, which resulted in the deaths of two Jewish individuals and three security personnel on May 9th. The interrogation lasted for several hours before they were granted bail.
Al-Gharbi  and Makki, along with their colleague Noureddine Buttar, who has been in detention since February, are facing the possibility of imprisonment for multiple years. Additionally, Khalifa Al-Qasimi, a radio reporter in Kairouan, has been convicted of "disclosing security information" and may be sentenced to five years in prison. Al-Qasimi's conviction was based on his publication of a factual news report regarding the dismantling of a terrorist cell in Kairouan. This punishment represents the harshest penalty against journalists within the Tunisian legal system in decades.
In a press statement following the investigation, journalist Elias Al-Gharbi asserted that they are journalists, not criminals, and affirmed their commitment to the challenging struggle for freedom. Women Journalists Without Chains (WJWC) are increasingly alarmed by the ongoing reprisals against journalists in Tunisia and are urging the authorities to halt their intimidation tactics and bring an end to the prosecutions without delay.
The Tunisian authorities' exploitation of the judiciary to suppress freedom of the press and impose the most severe penalties, which surpass even those used by the previous dictator Ben Ali's regime, "tramples upon all the achievements for which Tunisians have sacrificed and starkly contradicts the constitutional guarantees and international treaties ratified by the Tunisian state." This conduct poses a threat to journalistic work in Tunisia, leading to journalist unemployment due to restrictions on accessing genuine information, persistent intimidation from oppressive laws, and never-ending trials. Journalists are also being excluded from press coverage in many cases due to President Kais Saied's decision to prohibit their access to information, despite the enactment of a law on the right to access information in 2016.
Since the suspension of parliament in July 2021 and the ratification of a new constitution in the same month in 2022, despite low voter turnout, Kais Saied has assumed full authority in Tunisia. He has enacted oppressive legislation aimed at suppressing journalists, as well as public and private media institutions.
Despite numerous pleas for the repeal of these laws and calls for consultations with civil society organizations concerned with freedom of expression to address the deteriorating state of freedom of opinion and expression in Tunisia, which was the most significant outcome of the Jasmine Revolution, Saied has ignored them.
During 2022, "Women Journalists Without Chains" observed the Tunisian authorities committing violations against 132 Tunisian journalists, of which 37 were women journalists. These violations included subjecting 22 journalists to trials and investigations, 12 to arrest and temporary detention, 31 to direct assault, and preventing 67 journalists from performing their work and covering events.
Due to Decree No. 54, issued in 2022, many journalists are facing prosecution under unprecedented restrictions that aim to intimidate both journalists and the Tunisian public from expressing their opinions, particularly towards political officials. The decree consists of thirty-eight chapters distributed over five sections, which impose penalties of up to six years in prison and fines of up to $20,000 for committing crimes such as spreading "false news and rumors" and producing "fabricated or forged documents." However, the decree fails to provide clear definitions of these terms, leaving them open to broad and ambiguous interpretation, which may be used to justify press abuse by the authorities.
The decree's 9th and 10th chapters grant judicial authorities the power to monitor people's internet activity and gather their personal communication data from service providers. The reasons for such measures are vaguely stated as being necessary to "uncover the truth" or for "investigating" suspected criminal activities. Furthermore, Chapter 35 enables Tunisian authorities to share this information with foreign governments.
Without any further delay, Women Journalists Without Chains is strongly urging the Tunisian authorities to take the following necessary actions:
Immediately release all journalists who are detained for performing their duties and ensure their safety.
Dismiss charges against journalists Elias Al-Gharbi, Haitham Makki, and others facing similar accusations. Several journalists, bloggers, and politicians are awaiting trial for expressing opinions deemed offensive to President Kais Saied's policies and the security forces' reputation.
Revise laws that curb journalists' freedom, including Decree No. 54, issued in September 2022, which pertains to crimes related to information and communication systems.
Allow public television and other state-run media outlets to cater exclusively to the Tunisian public and refrain from using them for propaganda purposes against journalists.
Repeal the ban on the Right to Information Law (22-2016), which is considered the most comprehensive legislation on this matter in the Middle East and North Africa. Since the issuance of Government Circular No. 19/2021 on "government communication to the government," various state structures and local authorities have imposed a media blackout, leading to an increase in rumors and exacerbating the daily challenges faced by journalists.
Issued by:
Women Journalists Without Chains
May 24, 2023