WJWC: Urgent Call for Protection of Journalists in Palestine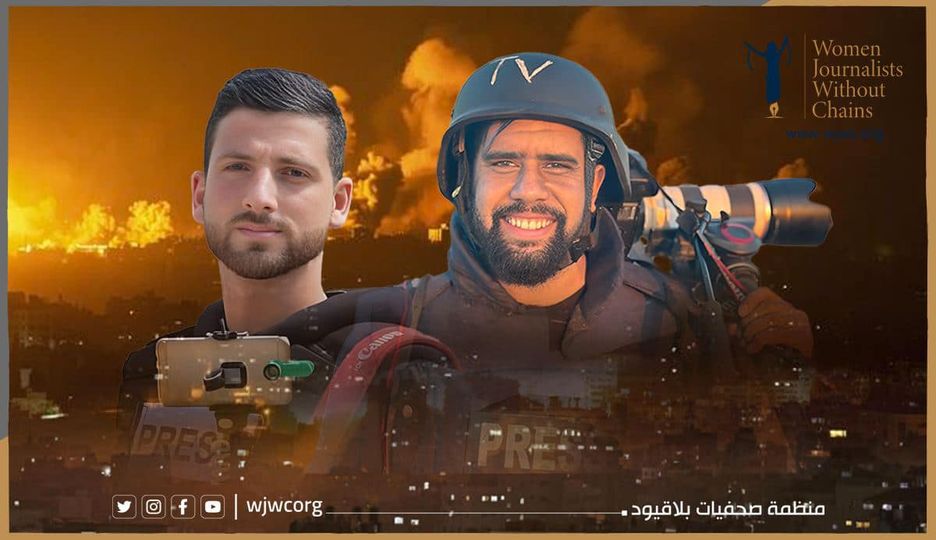 Women Journalists Without Chains urgently calls for immediate action to ensure the safety and protection of male and female journalists and press crews reporting on the ongoing events in Palestine since October 7th,
expressing deep concern over the distressing number of violations suffered by our colleagues during the initial two days of the Palestinian attack and the subsequent Israeli response.
In a distressing development, the journalists Muhammad Al-Salhi (Fourth Authority Agency photographer) and Ibrahim Muhammad Lafi (Ain Media Agency photographer) lost their lives in East Al-Bureij on the border fence while covering the Palestinian attack and the Israeli response. This tragic incident adds to the alarming toll of 50 male and female journalists killed by Israeli forces since 2000. Women Journalists Without Chains strongly emphasize that the continued impunity of perpetrators responsible for these journalist murders has not only undermined press freedom but also emboldened the Israeli authorities to perpetrate further violations.
Amidst the unfolding events near the Beit Hanoun checkpoint, journalists Nidal Al-Wahidi (photographer of Al-Najah Channel) and Haitham Abdel-Wahed (Ain Media Agency) have gone missing, raising deep concerns. Women Journalists Without Chains fervently calls upon both the Palestinian and Israeli authorities to disclose the fate of these journalists and take immediate actions to guarantee their safety and well-being.
Journalist Ibrahim Qanan was injured in an Israeli raid on Nasser Hospital in Khan Yunis, along with targeted attacks on the homes of journalists and media headquarters in Gaza. Journalist Saleh Al-Masry was injured and his apartment damaged by an airstrike. Journalist Abdel Majeed Adwan was injured by rubber bullets in Kafr Qaddum. A vehicle belonging to Reuters journalists was shot at in Sderot. The Israeli raids also destroyed the "Palestine" and "Watan" towers in Gaza's Al-Rimal neighborhood.
Israeli forces perpetrated a series of egregious attacks on male and female journalists throughout the occupied Palestinian territories, notably including an incident where the Sky News Arabia crew in Ashkelon suffered physical assault, verbal insults, and the destruction of their equipment. Firas Lutfi, correspondent for Sky News Arabia, bravely shared the harrowing details, recounting how over 20 Israeli police officers from the Border Guard unit forcibly stripped him of his press badge, compelled him to remove his clothes, and subjected him to degrading acts such as kneeling on the ground, while also assaulting him by striking his face with shoes.
As Women Journalists Without Chains express their condolences to the fallen journalists and extend their support to their grieving families and colleagues, they firmly emphasize that the murders and violations targeting Palestinian journalists, regardless of gender, should not be subject to any statute of limitations, holding the Israeli authorities accountable for these grave violations.
Women Journalists Without Chains calls for the following:
• Immediate initiation of investigations into the killings of journalists and the disclosure of the fate of missing journalists. Perpetrators, including soldiers, officers, and officials who issued instructions to target media workers, must be held accountable.
• Demanding that Israeli authorities cease all violations and provocations against male and female journalists in areas under their control, including the Gaza Strip.
• Ensuring the safety and security of male and female journalists who carry out their work in reporting events to the world.
• Urging the international community to guarantee the protection of male and female journalists, press crews, and agency offices, ensuring impartial and professional coverage. It is crucial to address Israeli actions that violate conventions related to press freedom and media.
• Encouraging male and female journalists to maintain professional safety during press coverage, exercising caution and diligence in their work.
Issued by:
Women Journalists Without Chains
October 9, 2023