Iran: Press Repression Heightens on Mahsa Amini's Death Anniversary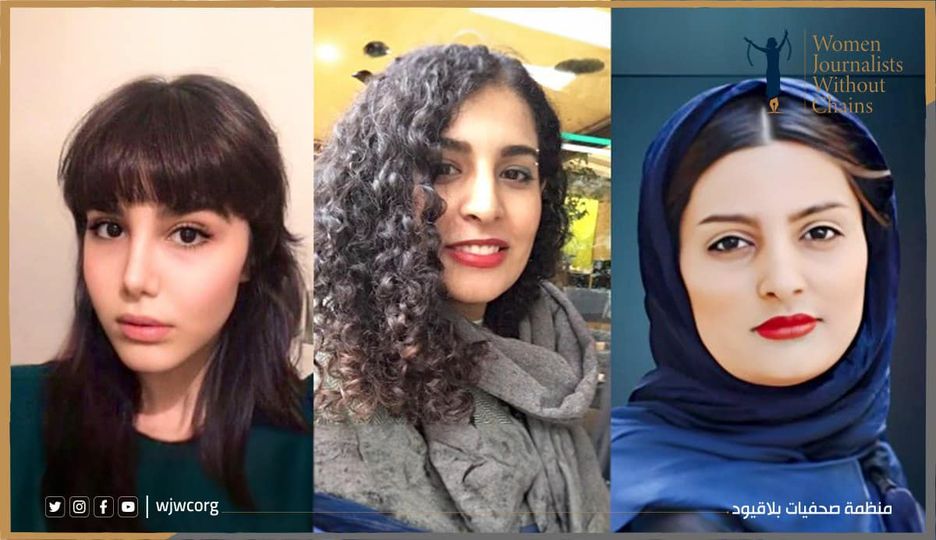 Women Journalists Without Chains (WJWC) voices profound concern as Iranian authorities escalate violations against journalists and media workers, particularly with the approaching first anniversary of Mahsa Amini's tragic death. Amini, aged 22, died in police custody on September 16 after being arrested for wearing a t-shirt deemed "inappropriately" violating hijab norms.
The tragic death of Amini ignited widespread protests in Iran, leading to an escalation of authorities' brutality. Hundreds of protesters were suppressed and killed. The independent media faced unprecedented repression, with journalists arrested, tortured, and their work severely restricted. Despite a year passing since the brutal crackdown began, the uprising persists, serving as a reminder that suppressing access to truth cannot quell the sense of injustice or silence those who rebel against it.
Just days ahead of Amini's death anniversary, Iranian authorities delivered prison sentences to three female journalists in a chilling warning to the journalism community. This action, aimed at female journalists in particular, highlights the risks they face in carrying out their work, especially when covering demonstrations or exposing the truth about authority, its failures, and its brutal nature. Such actions undermine freedom and stifle the voices of those who seek to hold power accountable.
Journalist Nazila Maroufian has been sentenced to one year in prison for charges of "propaganda against the regime" and "collusion and assembly." Additionally, journalists Najeen Bagheri and Elnaz Mohammadi received a three-year suspended sentence for "assembly and complicity to commit the crime." These verdicts were handed down in response to their coverage of the months-long "Women, Life, Freedom" protests, ignited by Amini's killing.
Journalist Maroufian's turbulent ordeal continues as she was arrested for the fourth time on August 30, leading to a distressing incident of violence and assault by security forces during a raid on her home in Tehran. On September 6, Maroufian bravely leaked an audio recording from Evin Prison, revealing that she had experienced "sexual assault" during her most recent arrest.
Elnaz Mohammadi is the twin sibling of journalist Ilhan Mohammadi, who has been held in custody since September 29, 2022, because of her reporting on the Mahsa Amini funeral. Ilhan faced a trial in May, where she was accused of "conspiracy" and "collusion." Currently, she is in a state of anticipation as she awaits her sentencing.
Elnaz Mohammadi is in a different situation than her sister Ilhan, who is still detained. Even though neither Elnaz nor Najin are detained, they are both unable to leave Iran, interact with foreign media, or engage in journalism. Additionally, they must attend a required training course on journalistic professional ethics every semester, closely supervised and collaborated on by the Ministry of Intelligence.  
According to the WJWC, around 40 female journalists and media workers have been arrested, a surprisingly high number considering that women in journalism form a minority in the country. The organization believes that the arrests are not solely based on their reporting, but rather on their gender and their advocacy for the rights and freedoms of Iranian women and men.
Despite limited information on press violations in Iran, our findings reveal that over 100 journalists, both male and female, were arrested from September 2022 to May 2023. Out of these, at least 33 journalists remain in detention. Furthermore, there were nine additional arrests prior to the protests, resulting in severe prison sentences for some, such as a journalist who received up to 18 years. Others were released on bail but still face the possibility of retrial and imprisonment.
In response to the political rulings against female journalists commemorating the anniversary of the killing of "Amini," Iranian authorities escalated their repression by extending it to media outlets. On September 4, the Press Supervision Authority, under the Ministry of Culture and Islamic Guidance, revoked the operating license of the Entekhab Company, which runs the Reform Movement-affiliated Entekhab news website. As a result of a critical video report on August 22, which scrutinized President Ibrahim Raisi's foreign policy, the Iranian authorities took action by imposing an indefinite ban on the website and blocking its associated social media accounts within the country.
The dismissals of journalists in Iran continued, affecting both male and female reporters who faced job loss as a consequence of their criticism towards government officials. On August 10, Azadeh Pirakooh and Mohsen Ajarloo, journalists at the state-run Iran Sports newspaper, were fired for expressing their concerns regarding the administration of the Ministry of Sports and Youth during the tenure of former minister Hamid Sajadi, who had resigned earlier that month.
As per the WJWC, the Iranian regime considers independent journalism a threat, resulting in deflection from protest grievances, scapegoating the media, suppressing freedom of expression, tarnishing the reputation of journalists, particularly females, through accusations of espionage or serving foreign interests, perpetuating ongoing distortion, intimidation, and limitations that highlight the recklessness of officials and the governing authority.
The WJWC highlights that the Iranian regime perceives independent journalism as an enemy, opting to blame the media and stifle freedom of expression instead of addressing protest grievances. Through their extensive media machinery, they smear male and female journalists, considering them spies or serving foreign purposes. This behavior includes the continued distortion, intimidation, and hindrance of female journalists, revealing the recklessness of officials and the ruling authority.
To gain insight into the state of journalism in Iran, we invite you to explore our compelling report entitled "Media Landscape in Iran: The Walls of Shame".
In the midst of grave press freedom violations in Iran, Women Journalists Without Chains makes the following urgent appeals to the Iranian authorities:
Guarantee the physical and psychological safety of all journalists, irrespective of gender, enabling them to carry out their work without intimidation or targeting based on gender.
Immediately and unconditionally release all detained journalists, including Nazila Maroufian, and put an end to imprisonments solely for the practice of journalism.
End arbitrary political judicial rulings against journalists, including travel bans and compulsory participation in questionable courses led by intelligence services, enabling them to freely carry out their professional duties.
Facilitate an environment where independent media can operate without restrictions, recognizing its vital role as a cornerstone of any democratic society.
Stop the arbitrary dismissal of journalists and halt the practice of endangering their livelihoods due to their journalistic work, moving away from this detrimental approach.
Ensure the freedom to disseminate news and facts, including coverage of union activities, discussions on public affairs, and reporting on protests.
End the pressure exerted on the families of journalists, both within Iran and abroad, granting them the right to live in peace without fear of retaliation.
Uphold international standards that protect the freedom of journalistic work and the right to freedom of opinion and expression.
Issued by:
Women Journalists Without Chains
September 15, 2023