WJWC strongly condemns the killing of hundreds of people at Sanaa's mourning hall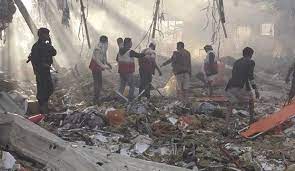 Women Journalists Without Chains condemns in the strongest terms the killing of hundreds of people in an airstrike hitting a funeral hall full of mourners on October 8, 2016 in the capital Sanaa.
WJWC sees the bombing of the mourning hall as a crime against humanity, calling on all parties to the conflict to abide by international laws, spare civilians from the horrors of war and not to target houses, neighborhoods and densely populated markets.
The organization urges to set up a commission of inquiry into the incident as soon as possible, stressing the need to hold perpetrators accountable for this crime and all other serious crimes and violations of human rights taken place in all governorates of Republic of Yemen.
It also affirms that there is no statute of limitations on such crimes whose perpetrators must be brought to trial and receive deterrent punishment.
Women Journalists Without Chains finally calls upon all international organizations to condemn the crime and other serious violations of human rights.