Shadow Dialogue: Unveiling Dreams & Demands of Yemeni Governorates for Free and Dignified Future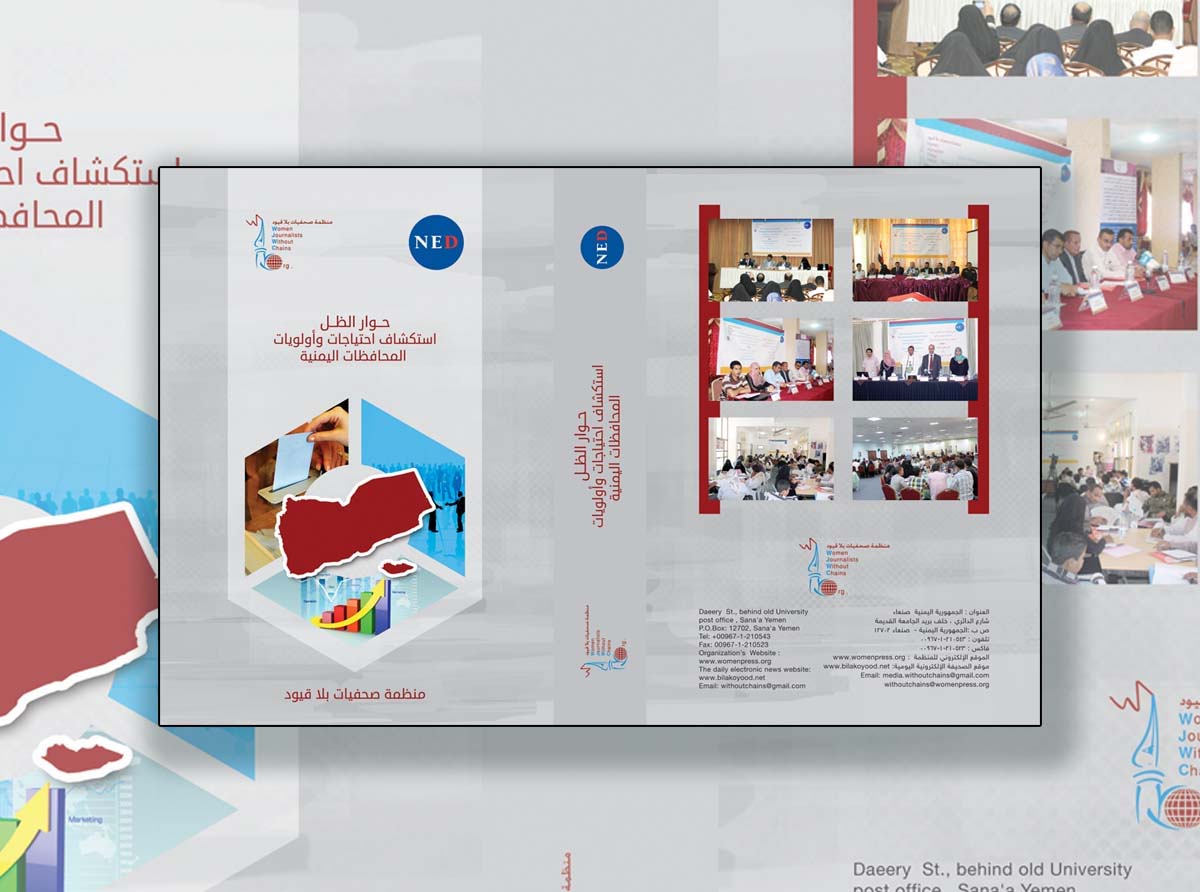 The book "Shadow Dialogue" sheds light on the voice of the Yemeni people, especially their aspirations for a better future.
Published by Women Journalists Without Chains, the book presents an in-depth exploration of the needs and priorities of Yemeni governorates and the vocabulary of the dreams of their sons.
The book is a compilation of working papers and discussions from local parallel conferences that were held alongside the Comprehensive National Dialogue Conference. These events, organized by Women Journalists Without Chains, brought together people from the most important Yemeni governorates, including Al-Hodeidah, Lahij, Al-Dhalea, Taiz, Ibb, Hadramout, Aden, Abyan, Marib, Dhamar, and the capital Sana'a.
Edited by Dr. Abdul Salam Mohammed Al-Muhendi, the Director of the Human Rights and Public Opinion Center at Sana'a University, the book documents the discourse that prevailed during one of the most critical historical periods in Yemen's history.
According to Tawakkol Karman, the founder of Women Journalists Without Chains organization, the book is a contribution to the state-building process. It provides a summary of the parallel conferences organized by the organization in order to identify the demands and dreams of Yemeni people for their free and dignified future.
The book is a testament to the resilience and determination of the Yemeni people to overcome the challenges they face. It highlights their unwavering commitment to building a better future for themselves and their children.
As the world continues to grapple with the ongoing conflict in Yemen, "Shadow Dialogue" offers a unique perspective on the aspirations and struggles of the Yemeni people. It is a valuable resource for scholars, policymakers, and anyone interested in understanding the complexities of Yemen's political and social landscape.
The book unveils the untold dreams and unheard demands of Yemen's diverse governorates for a future of freedom and dignity. It is a vital account of the resolve of Yemenis to craft their destiny despite the turmoil around them. Shadow Dialogue provides insight into the spirit of Yemen—indomitable, yet fragile.